Second TrainIQA Workshop in Potsdam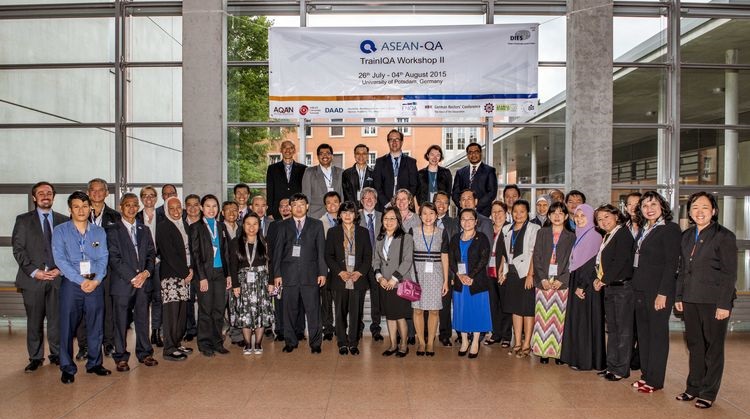 The second ASEAN-QA TrainIQA workshop took place from 27th of July to 4th of August 2015 in Potsdam, Germany. The main topics of the workshop were tools and procedures for quality assurance in higher education institutions, with a focus on the different process steps of an evaluation, survey design and data collection methods.
As well as during the previous workshop in Kuala Lumpur, the 32 participants had ample time to work and discuss on their institutional project action plans. Through the implementation of these projects, systematic internal quality assurance structures are meant to be established at the participating higher education institutions. During the workshop, the participants also used the chance to network and to exchange own ideas and best practices to learn from each other´s' experiences.
The participants also had the chance to visit the Centre for Quality Enhancement of the Technical University of Applied Sciences Wildau. The colleagues from Wildau introduced the quality system of their institution and gave a tour of the campus.
A documentation of the second workshop can be accessed here.
Participants of the training have access to a more in depth documentation over the online platform.


The next TrainIQA workshop will take place in Bali, Indonesia, between the 9th and the 13th of November 2015.

About the Project:


The ASEAN-QA project is jointly conducted by the German Academic Exchange Service (DAAD), the German Rectors' Conference (HRK), and the University of Potsdam, Germany together with partners from Southeast Asia and Europe – ASEAN Quality Assurance Network (AQAN), ASEAN University Network (AUN), European Association for Quality Assurance in Higher Education (ENQA), and the SEAMEO Regional Centre for Higher Education and Development (SEAMEO RIHED) – and aims at developing capacity in the field of quality assurance (QA) in the ASEAN region.
Since 2011 the project partners have offered different trainings for internal and external quality assurance in higher education.
ASEAN-QA is funded by the Federal Ministry for Economic Cooperation and Development (BMZ), Germany.