Latest News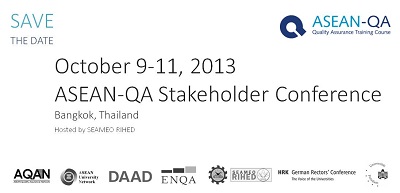 After three years of fruitful co-operation the first ASEAN-QA Training Course comes to an end in the place where it initially started. The last conference will be held from October, 9th to 11th in Bangkok. The event will be hosted by the Southeast Asian Ministers of Education Organisation Regional Centre for Higher Education and Development (SEAMEO RIHED) one of the program's partners.
"Thai Deans for Change" was the theme of a study visit by 30 deans from Thailand to Berlin and Potsdam from 10th to 16th June, 2012.
The Thai Deans for Change Programme is a cooperation of DAAD and HRK and the Knowledge Network Institute of Thailand (KNIT) and the German Centre for Higher Education (CHE). The programme provides an excellent platform to share examples of good practice in the field of higher education and professional management of universities.
The first phase of the ASEAN-QA Training Course took place from 17th to 21st October in Bangkok/Thailand. Despite the flood in Bangkok and surroundings, all participants and trainers arrived safely at the Siam City Hotel where the Workshop could take place without risks or inconveniences.